Uloading new equipment
Installing Proofing and Oven units
Progress Update!
During March 2012 a cargo container filled with new proofing units, ovens, and other items set sail via cargo vessel and arrived in early April in the port of Canelones, Uruguay. During the week of April 15th, Project Manager Michael Byrd flew down to the newly renovated bakery and oversaw the unloading and installation of the new baking equipment.
---
Dear Friends,
Uruguay Adventist Academy, Canelones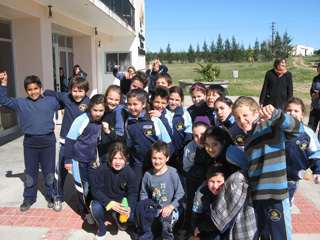 Some of the 400 K-12 academy students
The bakery across the street from the Academy
Interior production room before remodeling
Remodeling the production room
New loading dock ramps
Michael Bryd, Project Manager
"Give a man a fish, and he'll eat for a day. Teach a man to fish, and he'll eat for a lifetime."
IDEALS International, a U.S. non-profit corporation, based in the state of Tennessee, is established to foster self sustaining mission outreach projects.
(click for map) Uruguay Adventist Academy has requested help in setting up a self-sustaining industry on campus. There are many students that want to attend but do not have the finances necessary to attend a Christian school.
Uruguay Adventist Academy is located in Canelones, 20 miles outside the capital city of Montevideo, with an enrollment of nearly 400 K-12 students. It is a boarding school, but most of the kids are day students.
The dorms are only one-third full, allowing space for many more students to attend - if only the school had an industry where they could work to pay their way through.
Our commitment to this project is to open a commercial bakery, employ approximately 20 students, and offer a Master Baker program that will give the students a trade along with thier education.
We have secured a lease on a building just across the street from the school that will work well for a bakery. The bakery business will be owned by IDEALS International.
A local contractor estimates that it will cost nearly $227,000 to upgrade the building to meet Uruguay's modern electrical and plumbing codes. Some of the internal walls need to be moved and removed to make new spaces for storage and offices or to modify the size of other areas. A new loading dock and ramp needs to be built and a large, walk-in freezer set up as well as giving everything a fresh coat of paint, installing new tile floors, and other modern renovations.
A lot of the necessary equipment has already been ordered for the bakery., but an additional $300,000 is needed for additional new equipment, over-seas container shipping, installation, and start-up expenses.
The total budget to launch the bakery is $525,000. Nearly $200,000 of this has already been raised. Because the business will be self-sustaining, it will need no additional capital when complete.
The individuals committed to getting the bakery up and running are Michael Byrd, Larry Chaij, and Alda Novell.
We seek your help in this new self-sustaining ministry by raising $325,000 in just a few weeks in order to meet our schedule of opening the bakery in March 2012.
The benefits of this project are:
Student workers will be able to earn up to 75% of their tuition, helping them to afford a Christian education.
The Academy will prepare students for University studies as teachers and leaders in Uruguay.
Student workers can also earn a Master Baker Certification, a trade that will qualify them to work in any bakery in the country.
The bakery will provide a reliable cash flow to the school through the tuition of the kids, helping the school to be a financially strong institution.
The bakery will produce whole-grain products, which are not widely offered throughout the country.
Serve as a Christian witness in the community.
Please consider what you can do to help launch this new bakery. We know that this project is possible only through God's blessing and provision.
Donations are fully tax deductable. Make your check out to Come And Reason Ministries and mail it to the address below. Important: on the check memo line write "Uruguay Misson Bakery Project."
Come and Reason Ministries,
PO Box 1344
Collegedale, TN 37315
You can also use the PayPal button in the Support / Contact menu, just remember it is very important to add a note / comment indicating your donation is for the "Uruguay Mission Bakery Project," otherwise Come And Reason's treasurer will conclude the donation is for Come And Reason Ministries.
Thank you so much for your support.
Sincerely,
Michael Byrd,
Project Manager
423-802-2916
This email address is being protected from spambots. You need JavaScript enabled to view it.
.........