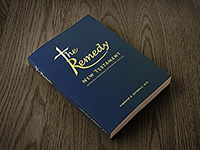 English - Paperback

(click button to see current price and order)
The Remedy NT (2nd Edition with over 1,000 edits), published by Lennox Publishing, an imprint of Come And Reason Ministries, is an enhanced, modern English paraphrase of the New Testament that is now available for purchase at Amazon (USA only).
We are also offering BULK purchases by the case of 24 book via the order button below. Again, USA shipping only... no international orders at this time.
Android and iOS mobile apps will be available soon on their respective app stores for $1.99., The free 1st Edition app is no longer being offered or supported.
To order this soft cover book BY THE CASE, click the order button below.
We are making these available at a substantial discount of $10/book and $20 shipping within the
USA only
, bringing the total to
$260.00 per case
of 24 books. After submitting the order form, our Director will contact you to arrange payment.
---
Our 1st Edition web version (menu above) is still freely readable.