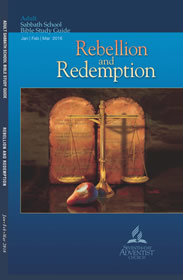 In This Quarter...
Somehow, and we don't know exactly why, sin arose in God's perfect creation, and that sin became the starting point for what we understand as the great controversy. One thing, though, we do know, and very well too: as human beings, we are caught in the middle of this controversy. It's a battle that none of us escape.
Throughout Scripture, God is constantly defeating Satan's purposes. Jesus' coming as Immanuel, "God with us," recovered the territory stolen from Adam and Eve. Jesus succeeded where Adam failed. In His ministry, Jesus showed His authority over creation and the forces of evil. Just before His return to heaven, Jesus recommissioned His followers and at Pentecost empowered them to extend the borders of His heavenly kingdom.
Jesus has won the decisive victory at the cross. The challenge has always been where we place our loyalties: on the side that has won or on the side that has lost. Though the choice should be easy and obvious, because the controversy still rages and the deceptions are ever-present, the battle for our hearts and minds continues. Our hope and prayer, then, is that this quarter's lessons will reveal some of these deceptions and thus help us not just to choose Christ but to remain with Him because, as He has promised, " 'He who endures to the end shall be saved' " (Matt. 24:13, NKJV).


Obtain and read PDF lessons here or as HTML web pages on SSnet.org
1st Quarter 2016: Rebellion and Redemption podcast >>
Lesson Title
Webcast Video
Audio
Notes
1 - Crisis in Heaven (jan 2)
Your browser doesn't support audio.
Please download the file:
YouTube
MP3
PDF
2 - Crisis in Eden (jan 9)
Your browser doesn't support audio.
Please download the file:
YouTube
MP3
PDF
3 - Global Rebellion and the Patriarchs (jan 16)
Your browser doesn't support audio.
Please download the file:
YouTube
MP3
PDF
4 - Conflict and Crisis: The Judges (jan 23)
Your browser doesn't support audio.
Please download the file:
YouTube
MP3
PDF
5 - The Controversy Continues (jan 30)
Your browser doesn't support audio.
Please download the file:
YouTube
MP3
PDF
6 - Victory in the Wilderness (feb 6)
Your browser doesn't support audio.
Please download the file:
YouTube
MP3
PDF
7 - Jesus' Teachings and the Great Controversy (feb 13)
Your browser doesn't support audio.
Please download the file:
YouTube
MP3
PDF
8 - Comrades in Arms (feb 20)
Your browser doesn't support audio.
Please download the file:
YouTube
MP3
PDF
9 - The Great Controversy and the Early Church (feb 27)
Your browser doesn't support audio.
Please download the file:
YouTube
MP3
PDF
10 - Paul and the Rebellion (mar 5)
Your browser doesn't support audio.
Please download the file:
YouTube
MP3
PDF
11 - Peter on the Great Controversy (mar 12)
Your browser doesn't support audio.
Please download the file:
YouTube
MP3
PDF
12 - The Church Militant (mar 19)
Your browser doesn't support audio.
Please download the file:
YouTube
MP3
PDF
13 - Redemption (mar 26)
Your browser doesn't support audio.
Please download the file:
YouTube
MP3
PDF