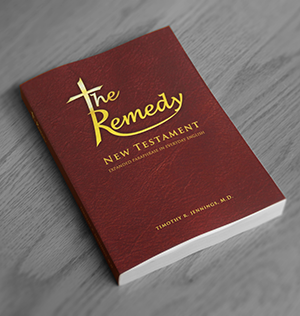 We regret to inform you that our first edition of 10,000 copies of The Remedy NT has "sold" out. In other words, we've freely given every last one of them away.

This is why it has been temporarily removed from our e-Store order form. The second edition is currently being edited, and we're seeking a recognized Christian publisher to take this enhanced New Testament paraphrase in english to the next level of distribution in major Christian bookstores and other outlets, nationally and in other countries (possibly in other languages)! Pray that God's will be done to get this message of hope, love, and freedom to the world, so that many more people can discover God's infinite character of Love.
HOWEVER, the mobile app and our on-line web versions are still freely available!