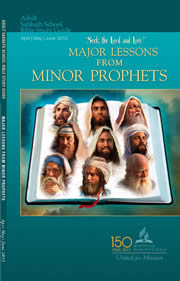 In This Quarter...
to save us from the most unnatural of acts, death; the eternal death that would be ours were it not for God's grace as revealed in the plan of salvation... that's the theme we are going to study, and we are going to explore it in the "Minor Prophets." Their message to us is that God wants to save us from our sins, to save us from the devastation that sin, rebellion, and disobedience bring. Over and over in these books we see the Lord pleading with His people to repent, to put away their sins, to return unto Him and to find life not death, salvation not damnation, hope not despair.

There is nothing "minor" about that theme. It's present truth—God's message to us today just as it was a message to those who lived in the time of these twelve writers who, though long gone, still speak.
The question is, will we listen? The answer is, for sure, for it is a matter of life and death.

Zdravko Stefanovic teaches Biblical Studies at Adventist University of Health Sciences in Orlando, Florida. He is married to Bozana, a math professor, and they have two sons. The family treasures fond memories of their 12-year mission service in East Asia and also of their 12 years of teaching at Walla Walla University.
Obtain and read PDF lessons here or as HTML web pages on SSnet.org
2nd Quarter 2013: The Minor Prophets podcast
PDF Notes
Lesson Title
Webcast Video
Audio
Notes
Share
1 - Spiritual Adultery (Hosea)
Your browser doesn't support audio.
Please download the file:
MP3
PDF
2 - Love and Judgment: God's Dilemma (Hosea)
Your browser doesn't support audio.
Please download the file:
MP3
PDF
3 - A Holy and Just God (Joel)
Your browser doesn't support audio.
Please download the file:
MP3
PDF
4 - Lord of All Nations (Amos)
Your browser doesn't support audio.
Please download the file:
MP3
PDF
5 - Seek the Lord and Live! (Amos)
Your browser doesn't support audio.
Please download the file:
MP3
PDF
6 - Eager to Forgive (Jonah)
Your browser doesn't support audio.
Please download the file:
MP3
PDF
7 - God's Special People (Micah)
Your browser doesn't support audio.
Please download the file:
MP3
PDF
8 - Trusting God's Goodness (Habakkuk)
Your browser doesn't support audio.
Please download the file:
MP3
PDF
9 - The Day of the Lord (Zephaniah)
Your browser doesn't support audio.
Please download the file:
MP3
PDF
10 - First Things First! (Haggai)
Your browser doesn't support audio.
Please download the file:
MP3
PDF
11 - Visions of Hope (Zechariah)
Your browser doesn't support audio.
Please download the file:
YouTube
MP3
PDF
12 - Heaven's Best Gift (Zechariah)
Your browser doesn't support audio.
Please download the file:
YouTube
MP3
PDF
13 - Lest We Forget! (Malachi)
Your browser doesn't support audio.
Please download the file:
YouTube
MP3
PDF