Come And Reason is Mobile!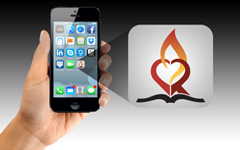 Want fast access to our live webcast stream on the go? Want easy access to live chat during the webcast? Want recent articles, blogs, and bible study archives for your mobile devices? Then do we have an app for that!
Introducing the Come And Reason Ministries mobile app for Android and iOS! Click the appropriate store button above and install it on your mobile device today, because it's FREE and just plain cool to show off to your friends!
Love, Truth, and Freedom Study Guides
Our second Love, True, & Freedom Bible Study Guide is now available for download and on-line reading as a print-ready PDF!
The topic of this 13 week study is: The Cosmic Conflict Over God's Character, by Drs. Brad and Dorothee Cole, both practicing neurologists. Brad is also a professor of neurology at Loma Linda University School of Medicine, Loma Linda, CA.
The Coles have an enormous amount of additional media material authored by them and many others available on thier God's Character website.
Get your FREE copy of "Love, Truth, & Freedom Bible Study Guide: The Cosmic Conflict" here!
Visit our e-Store!
Visit our store where you can purchase Dr. Jennings' books, "The God-Shaped Brain" (paperback only) and "Could It Be This Simple?" (see store for the various language and formats available).
"The God-Shaped Brain"
In this book Dr. Tim Jennings introduces you to the Integrative, Evidence-Based approach of understanding scripture. This method harmonizes scripture, science, and experience. He presents the Great Controversy over God's character and contrasts the two views of His Law, documenting the impact each view has upon neuro-development, mental health, and physical and relationship health. He presents a complete atonement model explaining why Christ had to die and answers questions, contrasting the various views about our origins, judgment, punishment, and God's wrath, identifying which one can heal any kind of person.
The last chapter entitled, "Buddha, Jesus and The Brain," explores the difference in how Buddha and Jesus dealt with their confrontation with death and the significant impact on brain function and structure that eastern meditation has compared to Biblical meditation.
This book makes a compelling, evidenced-based case for a God of love and His methods of love. It is easy to understand and brings to a practical level why it is so important to live in harmony with God and his design for life.
The publisher, InterVarsity Press, has not translated this book into any other languages at this time.
Click Here to order the paperback from Amazon.com (USA shipping only).
Click Here to order the Kindle version.
Click Here to order the Audio CD version (narrated by Dr. Jennings).
Click Here to order the paperback from InterVarsity Press (international shipping).
Click Here to order the ebook versions (mobi, epub,pdf).
Click Here to read the PDF companion STUDY GUIDE. It's FREE to download and print by right-clicking.
Find The Materials You Need
Over the years Come and Reason Ministries has amassed a library of articles on many topics you have questions about. From justification to punishment to the sanctuary to God's wrath and so much more, your questions can usually be answered simply by doing a SEARCH of this site using the search box above!