eStore: Love, Truth, and Freedom Study Guides
Love, True, & Freedom Bible Study Guides are a 13-week, undated, daily lesson study, with each week covering various aspects of the title subject.
Get your FREE ONLINE copy of "Love, Truth, & Freedom Bible Study Guide" here (via our Media Center > Stuff You Can Print menu)
Or get your FREE PRINT copy by simply sending us an email with your name, shipping address, and quanity.
US, This email address is being protected from spambots. You need JavaScript enabled to view it.
Australia and New Zealand, This email address is being protected from spambots. You need JavaScript enabled to view it.
South Africa, This email address is being protected from spambots. You need JavaScript enabled to view it.
Find The Materials You Need
Over the years Come and Reason Ministries has amassed a library of articles on many topics you have questions about. From justification to punishment to the sanctuary to God's wrath and so much more, your questions can usually be answered simply by doing a SEARCH of this site using the search box above!
Come And Reason is Mobile!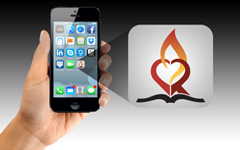 Want fast access to our live webcast stream on the go? Want easy access to live chat during the webcast? Want recent articles, blogs, and bible study archives for your mobile devices? Then do we have an app for that!
Introducing the Come And Reason Ministries mobile app for Android and iOS! Click the appropriate store button above and install it on your mobile device today, because it's FREE and just plain cool to show off to your friends!
Biblical Keywords: Comparing Definitions
Many times on issues like
justice, judgment, atonement, satisfaction,
etc. we encounter conflicts with others who seem to not appreciate or oppose what we are saying. In our Bible study class we have for some months now explored truth by contrasting the two ways God's law is viewed – natural or imposed. It struck me that comparing how these key words are defined under these two opposing law constructs would help clarify much of the terminology used in Scripture and expose why there is so much confusion. To that end I've created a chart of these biblical keywords and concepts and compare how they are defined under each of these views of God's Law.
Click Here to get it!