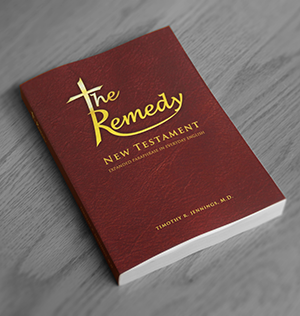 Finally, after 12 years of work, the long awaited day has arrived! Dr. Timothy R. Jennings', The Remedy New Testament Enhanced Paraphrase in everyday English, with words of Christ in red, came off the presses on Friday, May 20, 2016 and is now available for FREE (including shipping)!
How do you get it? Go to our e-Store menu and select the right address for your region in the Remedy NT listing. Give us your name, address, and quantity. Please do not use our contact form to order items.
Can't believe this bible paraphrase is Free and want to donate to the cause? Then use our PayPal donate button at the bottom of the home page or in our About menu.